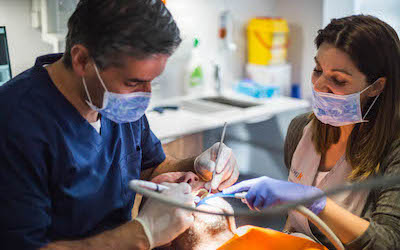 Dental Treatments
A complete range of dental treatments using the very latest techniques
Cosmetic Treatments
Invisible straightening and teeth whitening
for stunning smiles
Welcome to Mi Clinik Marbella
Dentistry is my passion and I am dedicated to making your visit to the dentist the best experience possible. My team is professional and we pride ourselves on offering an exceptional level of service in a spa-like environment, providing comfort to our patients before, during and after treatment.

My expert cosmetics team provides the latest technology and techniques in teeth whitening and straightening, enabling us to deliver exceptional results and the prettiest smiles.

Dr. Alejandro  Vargas Zarta
PCR, Rapid Flow & Antibody Test Fit to travel Covid-19 T...

DENTAL IMPLANTS Dental implants Recover your smile, and the ...

PEDIATRIC DENTISTRY Pediatric dentists are dedicated to the ...

PERIODONTICS This branch of dentistry specializes in the gum...

PROSTHETICS The term "Prosto" means to replace and "do...

VENEERS & LUMINEERS Veneers require some removal and re...

ENDODONTICS Endodontics is the branch of dentistry concernin...

CROWNS & BRIDGES Cosmetic Dentistry Cosmetic dentistry i...

Orthodontics Invisible Orthodontics With this technique, we ...

Teeth Whitening Teeth whitening lightens teeth and helps to ...

ORAL SURGERY All our surgical procedures are designed and ex...

ORAL HYGIENE At Mi Clinik Dental & Aesthetics, we will h...

FUNCTIONAL NUTRITION Functional nutrition studies the indivi...

TREATMENTS FOR MEN Even though most woman treatments can als...

LASER TREATMENTS Laser resurfacing is a treatment to reduce ...

BEAUTY TREATMENTS Treat your body with a luxury beauty treat...

COSMETIC MEDICINE Aesthetic medicine is an inclusive term fo...

PODRIATRIST Podiatry is a branch of medicine that focusses o...

PHYSIOTHERAPY Physiotherapy treatments are aimed at maintain...